This Site Is Still Under Construction At The Moment

---
*News*:
ADV Films: Resurrection of Evangeion Director Cuts
ADV Films announced its release date for Resurrection to be January 13, 2004. Resurrection is the first of the two highly anticipated Directors' Cut volumes of Neon Genesis Evangelion. The Directors' Cut is a re-edited special edition release of episodes 21-23, supervised by Hideaki Anno and Gainax, which includes the revised versions of the episodes along with the disputed deleted scenes and the amazing new footage never before available outside of Japan.
In addition to the Directors' Cut episodes, Resurrection will include an exclusive 25-minute interview with Richard Taylor, co-founder and head of Effects and Creatures at Weta Workshop, the multiple Academy Award-winning special effects studio that produced the effects for The Lord of the Rings and currently is in work on the Neon Genesis Evangelion live-action feature. Also included are numerous never-before-seen production images from the theatrical release. January 13 is comming up soon, make sure you get your hands on these, trust me they're worth it.
---
--Updates:
[8/21/03] The Angel Database, an incredibly in-depth view and scriptural anaylsis of the Angels, has just been put on the site. As of yet iv'e written analysis of the first three Angels: Adam, Lilith, and Sachiel. The database is a compilation of research alongside my opinions to give you a good look on the 17 Angels of Evangelion. Currently I am writing the conclusion to this database and will be getting it on the site shortly. Also, I welcome anyone with fanart submissions, questions, or information. Any mail can be sent to: Demosthenes19@yahoo.com
----------
[8/13/03] Finally the Information Database is complete! Take a look because there's some real meaty things in there, that even I hadn't seen before, espically regarding some confusing issues in The End of Evangelion. It was half written by me and half by Gainax from the Red Cross Book, meaning on most counts it's fairly reliable.
Also check out the new look, a new banner, which took all night to make, but i think turned out well. Other then that not much to report, next i'm going to try and write up an episode list with a corresponding synopsis, so go ahead and check back for that and for more updates.
----------
[7/8/03] Construction here is progressing slowly but shurely. Latley i've added a list of some interesting Character Profiles that contains rarely seen info taken from The Red Cross Book, a pamphlet released by Gainax in Japan, to help people try to understand The End Of Evangelion. Currently i'm trying to get up a huge information database of refrences, organizinations, and items that should prove quite usefull, some of that also from the Red Cross Book. Also, I completed the "Praise For EVA" section, which has a few nice reviews you might want to look at. Other the that, and my reluctance to make a banner for the page(which is still in progress), things have been more or less the same. Check back because i may have some current info into the progress of the live action film, things are still leaking out.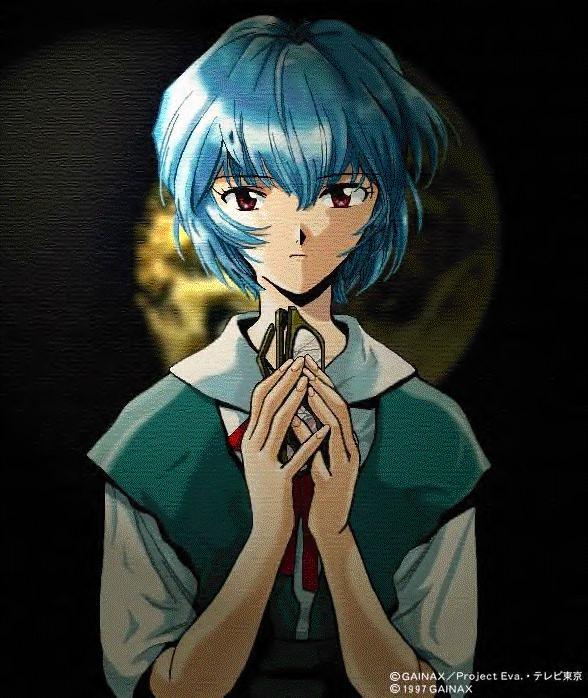 Overview:
In 1995, five years after Nadia: The Secret of Blue Water, Studio Gainx launched a stunningly new animated series. That series, Shinseiki Evangelion (Neon Genesis Evangelion), started with the commonly used mecha-anime genre and quickly set it's self apart climbing until it became distinguished over nearly all others. Hailed as one of the most controversial and sought out series of all time, with unsurpassed storytelling, Evangelion became "one of the finest achievements in the history of visual entertainment." Clouded with the pessimistic vision of a broken world the epic questions the meanings of life and to being human through a young boy's scathed psyche living in a closed world, and a 29 year old woman deject from her haunting past. With a sense of high mystery, Sci-Fi action, and ideas drawing on biblical references, the series challenges ideals and questions morals. Originally developed by Dr. Hideaki Anno, with a desire to throw feelings onto film, Shinseiki Evangelion, comprised of 26 episodes and two movies, accompanied by a following manga, has moved around the world, been produced in many languages, and currently has plans in shooting a live-action version film. Today it is still considered as one of the finest in it's field, a gem still leaving it's mark on the world.